AWARDS SHOW 2020- A MAJOR SUCCESS!
Thank you to all of our awards recipients, virtual attendees and a special thanks to Park Group Solutions!
Our awards show was virtual this year!  Viewing was amazing and we could not be happier for all of our talented Award recipients.
A very special thank you goes to our Silver Sponsors for this year's production.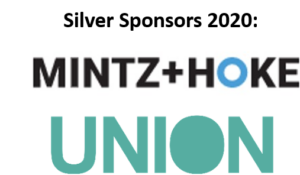 LIST OF WINNERS:
| | | | | |
| --- | --- | --- | --- | --- |
| AWARD | SPECIAL AWARD | AGENCY | CATEGORY | ENTRY NAME |
| GOLD | BEST OF SHOW | Union | Low Budget/No Budget | Nurses' Week "Response of the Resilient" |
| GOLD | CREATIVITY | Sublime Communications | Single Piece | Wooly Willy |
| GOLD | GOLD BRUSH | Colony Video | Single Ad ($10,000 – $50,000) | Dr. Sheffield's Toothpaste |
| SILVER | GOLD PEN | CashmanKatz | Social Media Campaign | JINGLE BELL LOCK |
| GOLD | INNOVATION | Mintz + Hoke | Guerrilla/Experimental Marketing | Where's Waldo Activation |
| GOLD | | CashmanKatz | Public Service | GOT NO SHAME 2 |
| GOLD | | Cronin | Logo Design | The Bradford Logo |
| GOLD | | Cronin | Single Piece | Malcontent Bear Label |
| GOLD | | Mintz + Hoke | Video/DVD | Experience Genuine Video |
| SILVER | | CashmanKatz | Social Media Campaign | JINGLE BELL LOCK |
| SILVER | | CashmanKatz | Integrated Campaign | TALK IT OUT |
| SILVER | | CashmanKatz | Online Video Campaign or Single | LOVE SCIENCE |
| SILVER | | CashmanKatz | Social Media Campaign | GOT NO SHAME |
| SILVER | | CashmanKatz | Social Media Campaign | HOCKEY POWER |
| SILVER | | CashmanKatz | Integrated B2B Campaign | RELATIONSHIPPING |
| SILVER | | CashmanKatz | Low Budget/No Budget | WATCH FOR ME |
| SILVER | | CashmanKatz | Original Photography | QUESTION I.T |
| SILVER | | CashmanKatz | Public Service | CUDDLY KEY |
| SILVER | | CashmanKatz | Public Service | DON'T BE ABOMINABLE |
| SILVER | | CashmanKatz | Public Service | PAINFULLY OBVIOUS |
| SILVER | | CashmanKatz | Single Ad (Under $10,000) | 8MM DECISIONS |
| SILVER | | CashmanKatz | Single Ad (Under $10,000) | DAD'S TRUCK |
| SILVER | | CashmanKatz | Video/DVD | IN HER SHOES |
| SILVER | | Cigna Creative | Video/DVD | Achilles Gala Video |
| SILVER | | Cronin | Logo Design | Integris Logo |
| SILVER | | Cronin | Website | Chegg Website |
| SILVER | | Cronin/Off Leash Studios | Online Video Campaign or Single | Stay Safe, Stay Home Series |
| SILVER | | Cronin/Off Leash Studios | Online Video Campaign or Single | Stay Safe, Stay Home Celebrity Mashup |
| SILVER | | Cronin/Off Leash Studios | Social Media Campaign | Liberty Bank Social Campaign |
| SILVER | | Cronin/Off Leash Studios | Single Ad ($10,000 – $50,000) | Make Your Mark |
| SILVER | | Cronin/Off Leash Studios | Video/DVD | Dogumentary |
| SILVER | | Decker | Single Billboard | Space Invaders |
| SILVER | | Decker | Social Media Campaign | "Summer of Health" Instagram Campaign |
| SILVER | | Decker | Integrated Online/Digital Campaign | Bioheat Game Show Campaign |
| SILVER | | Decker | Single Ad | Play2 "Dynamic Duos" Radio |
| SILVER | | Decker | Single Ad (Over $50,000) | LIVE BIG Campaign – "I Got This" |
| SILVER | | Elements | Logo Design | Much Kneaded Wellness Therapies Branding |
| SILVER | | Elements | Direct Mail Campaign or Single | Coronavirus Care Package |
| SILVER | | Mintz + Hoke | Series (3-5) | Suture Print Campaign |
| SILVER | | Miranda Creative | Website | Parkville Market Website |
| SILVER | | Park Group Solutions | Online Video Campaign or Single | All It Takes |
| SILVER | | Park Group Solutions | Single Ad (Under $10,000) | Helms Yea |
| SILVER | | Sublime Communications | Single Piece | Jenga |
| SILVER | | Sublime Communications | Series (3-5) | Delamar Print |
| SILVER | | Sublime Communications | Online Banner/Display, Series (3-5) | Delamar Digital |
| SILVER | | Sublime Communications | Social Media Campaign | SWJ Social |
| SILVER | | Sublime Communications | Website | SWJ Website |
| SILVER | | Sublime Communications | Integrated Consumer Campaign | Delamar Campaign |
| SILVER | | Sublime Communications | Integrated Online/Digital Campaign | SWJ Campaign |
| SILVER | | Sublime Communications | Low Budget/No Budget | Girls With Impact Film |
| SILVER | | Sublime Communications | Series (3-5) | Girls With Impact |
| SILVER | | Sublime Communications | Series (3-5) | GitLab |
| SILVER | | Sublime Communications | Series (3-5) | SentinelOne Transit |
| SILVER | | Sublime Communications | Single | Delamar Transit |
| SILVER | | Sublime Communications | Video/DVD | Archer Film |
| SILVER | | SVP Partners | Misc. Collateral | FTC 2019 Gala Invite |
| SILVER | | The Hartford Creative Services | Uncategorizable | Team USA Skateboard |
| SILVER | | Union | Video/DVD | Shipman & Goodwin "100 Years" |
| BRONZE | | CashmanKatz | Single Billboard | MISS HER |
| BRONZE | | CashmanKatz | Single Ad | SPF 50 |
| BRONZE | | CashmanKatz | Identity System | OUTGRIT |
| BRONZE | | CashmanKatz | Video/DVD | AVAN-KIDS |
| BRONZE | | Cigna Creative | Integrated Consumer Campaign | JPMorgan Chase Open Enrollment Campaign |
| BRONZE | | Cigna Creative | Integrated Consumer Campaign | Amazon Alexa for AEO Campaign |
| BRONZE | | Cigna Creative | Uncategorizable | WE Town Hall Theme |
| BRONZE | | Cronin | Identity System | Integris Stationary |
| BRONZE | | Cronin | Website | Cortera Website |
| BRONZE | | Cronin | Series of 3 | Extraordinary Experiences Radio |
| BRONZE | | Cronin | Single Ad | Northern Lake |
| BRONZE | | Cronin | Single Ad | Winter Night |
| BRONZE | | Cronin | Series of 3 (Over $50,000) | Higher Standards |
| BRONZE | | Cronin | Series of 3 (Over $50,000) | Extraordinary Experiences |
| BRONZE | | Cronin | Single Ad (Over $50,000) | Rocking Chairs |
| BRONZE | | Cronin | Single Ad (Over $50,000) | Moving Out |
| BRONZE | | Cronin/Off Leash Studios | Single Ad ($10,000 – $50,000) | Double Take |
| BRONZE | | Decker | Single Piece | Southwest B2B Campaign |
| BRONZE | | Decker | Series (3-5) | LIVE BIG Campaign |
| BRONZE | | Decker | Social Media Campaign | LIVE BIG Campaign |
| BRONZE | | Decker | Integrated Consumer Campaign | "Spoil the Ones You Love" Holiday Campaign |
| BRONZE | | Decker | Integrated Online/Digital Campaign | "Spoil the Ones You Love" Holiday Campaign |
| BRONZE | | Decker | Integrated Online/Digital Campaign | LIVE BIG Campaign |
| BRONZE | | Decker | Series of 3 | LIVE BIG Campaign |
| BRONZE | | Decker | Single Ad | "Spoil the Ones You Love" Holiday Campaign |
| BRONZE | | Decker | Single Ad (Over $50,000) | LIVE BIG Campaign – "Treat Yourself" |
| BRONZE | | Decker | Single Ad (Over $50,000) | "Spoil the Ones You Love" Holiday Campaign |
| BRONZE | | Elements | Social Media Campaign | Hood® Hat Social Media |
| BRONZE | | Elkinson+Sloves Inc. | Annual Report | Boys & Girls Clubs of Hartford Annual Report |
| BRONZE | | In-house | Misc. Collateral | Stepping Stones at Twenty Brochure |
| BRONZE | | Mason, Inc. | Annual Report | MIIA 2019 Annual Report |
| BRONZE | | Mintz + Hoke | Agency/Individual Self-Promotion | Mintz + Hoke 2019 Holiday Card |
| BRONZE | | Mintz + Hoke | Website | Women's Health CT Website |
| BRONZE | | Mintz + Hoke | Website | HSB IoT Digital Tool |
| BRONZE | | Mintz + Hoke | Misc. Collateral | Never Compromise Brochure |
| BRONZE | | Mintz + Hoke | Misc. Collateral | Antares Compass Report |
| BRONZE | | Mintz + Hoke | Indoor Environment | SI Group Company Values |
| BRONZE | | Mintz + Hoke | Video/DVD | Ignite Impossible Video |
| BRONZE | | Miranda Creative | Annual Report | US Coast Guard Alumni Association Annual Report |
| BRONZE | | Miranda Creative | Video/DVD | Williams School Recruitment Video |
| BRONZE | | Park Group Solutions | Online Video Campaign or Single | Are We There Yet |
| BRONZE | | Park Group Solutions | Series of 3 (Under $10,000) | Didn't Think I Had it In Me, Did Ya? |
| BRONZE | | Park Group Solutions | Single Ad (Under $10,000) | Really Tough |
| BRONZE | | Sublime Communications | Email Campaign (3-5) | Delamar Email |
| BRONZE | | Sublime Communications | Online Banner/Display, Series (3-5) | SWJ Digital |
| BRONZE | | Sublime Communications | Social Media Campaign | Delamar Social |
| BRONZE | | Sublime Communications | Video/DVD | Boxer Film |
| BRONZE | | SVP Partners | Logo Design | FTC 20th Anniversary Logo |
| BRONZE | | SVP Partners | Annual Report | Triumph Group 2019 Annual Report |
| BRONZE | | The Hartford Creative Services | Single Ad | Middle to Large Commercial Energy Ad |
| BRONZE | | The Hartford Creative Services | Single Ad | Middle to Large Commercial Technology Ad |
| BRONZE | | The Hartford Creative Services | Single Ad | Capital City Pride Ad |
| BRONZE | | The Hartford Creative Services | Low Budget/No Budget | The Hartford Yardgoats Founding Partner Campaign |
| BRONZE | | Union | Series of 3 ( $10,000 – $50,000) | Namco Pools "Excuses" |
| BRONZE | | Union | Video/DVD | Selective "Diversity" |
| MERIT | | CashmanKatz | Agency/Individual Self-Promotion | PREATIVITY |
| MERIT | | CashmanKatz | Single Billboard | WATERMELON FACE |
| MERIT | | Cronin | Single Ad | Walk In The Snow |
| MERIT | | Cronin | Single Ad (Over $50,000) | New House |
| MERIT | | Cronin | Single Ad (Over $50,000) | Bride |
| MERIT | | Cronin/Off Leash Studios | Social Media Campaign | Amica Social Media Campaign |
| MERIT | | Decker | Single Billboard | Treasure Hunt |
| MERIT | | Decker | Online Banner/Display, Series (3-5) | LIVE BIG Campaign |
| MERIT | | Decker | Point of Purchase/Sale | "Spoil the Ones You Love" Holiday Campaign |
| MERIT | | Elkinson+Sloves Inc. | Series (3-5) | Masked Heroes |
| MERIT | | Kevin Hall Design | Point of Purchase/Sale | Holiday Sales Event |
| MERIT | | Miranda Creative | Integrated Consumer Campaign | Dime Bank Integrated Campaign |
| MERIT | | Miranda Creative | Video/DVD | Dime Perks Video Campaign |
| MERIT | | Miranda Creative | Video/DVD | Dime Perks Video Campaign |
| MERIT | | Park Group Solutions | Mobile App | City of Bridgeport – My Park City |
| MERIT | | The Hartford Creative Service | Booth Design | Grace Hopper Conference Booth |
| MERIT | | The Hartford Creative Services | Agency/Individual Self-Promotion | The Hartford Holiday Print Card |